The first international certification in photography has been launched
Certificates to prove your expertise!
What is photography to you? Is it a hobby that you want to master, or an important skill for your career of choice? Regardless of how you see it, our team at THE PHOTO ACADEMY is dedicated to supporting you on your journey.

That's why we are so pleased to announce one of our most requested features!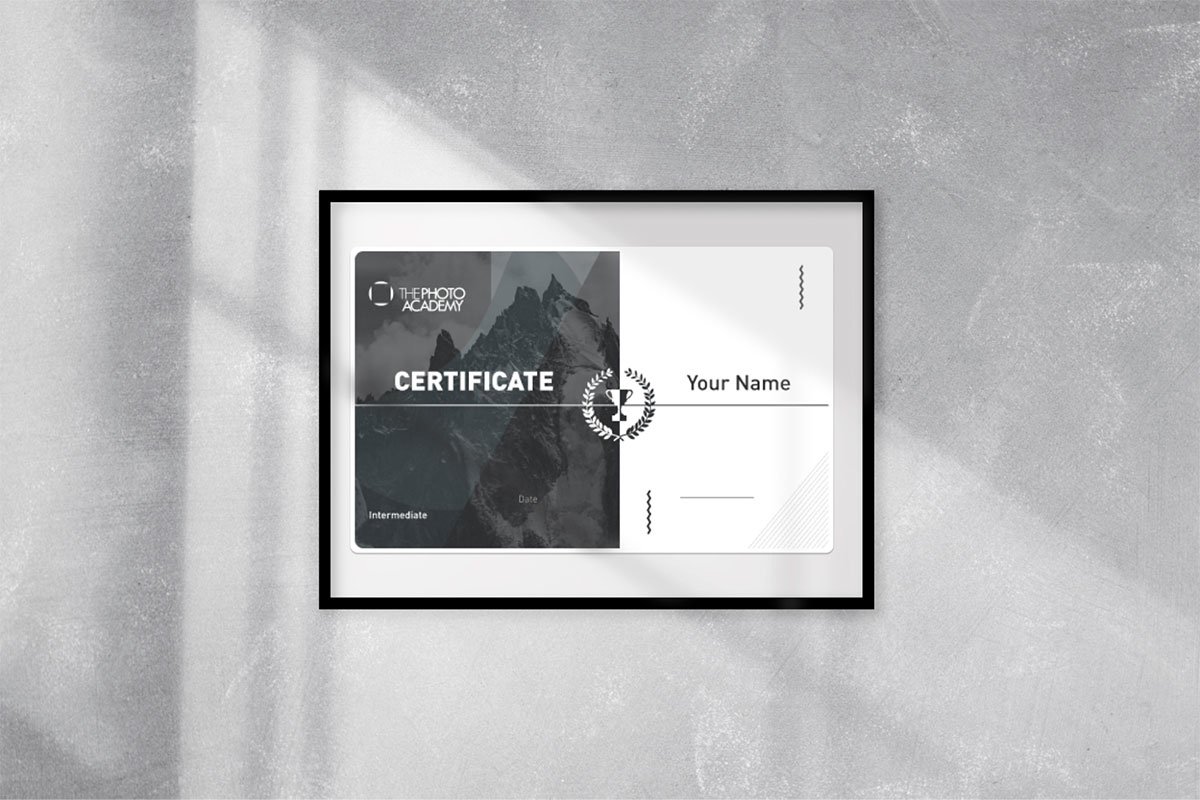 En plus d'une formation photographique ludique et professionnelle, soigneusement encadrée par nos professeurs, nous délivrons désormais des certificats pour témoigner de votre nouvelle expertise !
Discover the certification THE PHOTO ACADEMY
In a nutshell, what is certification?
Recognition of previous learnings
Since so many of you asked for it, we made your wish come true. From now on, the training courses you attend are considered milestones leading to certification. This includes the ones you have already attended.
Let's take an example: "Workshop 1: Basic camera settings" is a necessary step to acquire the "Photographing the other" badge. By taking this course, you have completed a percentage of the learning path leading to this certification.
To see how far you've come, or how many badges you've earned already, access your certifications today via your account (as well as all the course notes attached to the main courses).
A valued education
The certification system is a natural evolution of THE PHOTO ACADEMY's educational thinking. It also highlights our intention of valorizing your learning.
The acquisition of a certificate will be an opportunity to showcase your new skills, notably thanks to a certified document bearing a blockchain seal (generated by our partner Smart Certificate). You can then share it on LinkedIn, for example.

Customized programs
Each of the existing and upcoming certificates is designed with a specific photography skill in mind. Want to become proficient in urban or family portrait photography? Want to retouch your images efficiently? Our certifications will meet your expectations.
What's in it for you?
First of all, it makes it easier for you to track your own progress. Thus, making it easier for you to achieve your goals and focus on the photography topic or style you want to develop. But it can also be put to professional use.
Photography can be a challenging career, but earning a certificate is a good way for aspiring photographers to set themselves apart and can even help with a future job search.
There are many careers you can pursue with photography. You can become a professional photographer focusing on fashion, portrait, and work with celebrities. Other positions may include working in the areas of sports, marketing and advertising, weddings and events, glamor, and photojournalism.
Our certification program will add technical expertise, and there are many options for specialized certifications to tailor to individual areas of interest.
Why did we develop a certification system?
Our thinking process started from an observation concerning certification and photography. Is having a camera enough to be recognized as a photographer? What distinguishes a professional from an amateur photographer? Is it necessary to follow a photography school for several years to be professional? What about continuing education?
These are the questions that motivated us at THE PHOTO ACADEMY since the beginning of the project, as well as over the years after communicating with tens of thousands of yous.
There is a serious lack of an entity that validates photography skills. Far from wanting to replace photography schools, our ambition is to improve the system.
Like a TOEFL for learning English, we are not aware of any international institute that offers the equivalent in photography. THE PHOTO ACADEMY humbly proposes to start this work by awarding certificates following its courses.
THE PHOTO ACADEMY's ambition is to propose the first international certification in photography. It is destined to develop into a more complete learning experience by diversifying the courses we offer, their duration, and their function.
Sounds interesting? Find out more about Certificates in our Help Center!